Lake Erie's Future as the First 'Smart' Great Lake
We have Smart Cities. Why not Smart Lakes?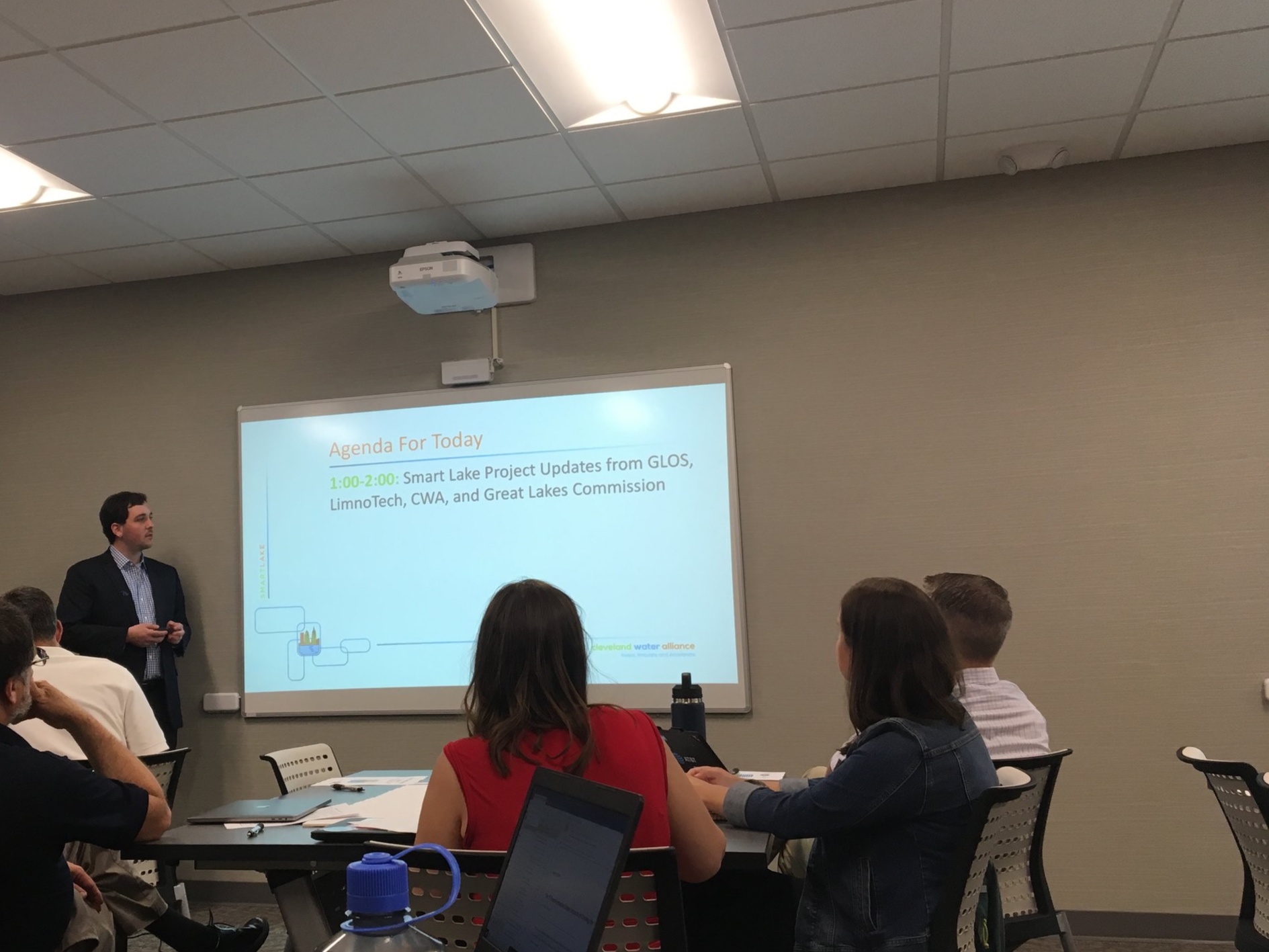 "…the foundation of any smart and connected system is data."
-Max Herzog
Cleveland Water Alliance is working to make Lake Erie the first connected Great Lake, or "Smart Lake," as it leads, partners with, and supports technological and research projects that innovate the lake.
The state of Ohio, under Governor DeWine's administration, with the state of Michigan and the province of Ontario, promise to continue to uphold the Western Basin of Lake Erie Collaborative Agreement, which holds a goal to reduce phosphorus in Lake Erie by 40% before 2025.
A Smart Lake allows for a greater connectivity between what is in the watershed and the people who depend on it, in order to increase awareness around and provide data surrounding nutrient loading and HABs. At the Smart Lake Erie Strategy Session, hosted on July 15th in Sandusky, Max Herzog, Program Manager for Cleveland Water Alliance, explained:
"One of the challenges we face right now is that we, as a room full of stakeholders that want to impact this issue positively, often are running into a paucity of information. With the low resolution data we have right now it's often difficult to evaluate the progress that were making, evaluation the efficiency of individual projects and thus establishing an actual return on investments that different entities are making to try to solve this issue is very difficult. And this is where we at the Cleveland Water Alliance think the opportunity lies for this Smart Lake concept . . . the foundation of any smart and connected system is data."
The Western Basin of Lake Erie Collaborative Agreement presents the opportunity and need to explore what is in Lake Erie so utility, academic, industrial, and public stakeholders can better navigate finding the solution to these issues. Herzog shared how data is the launch pad for finding such solutions.
"Beyond data, we're talking about information. How can these raw numbers be transformed into something that's useful and usable; leveraging analytics and visualizations and a host of other tools to really take the data from raw number into something that's actionable; something that serves solution providers that are already working on this set of issues of nutrient loading and harmful algae and engaging the public and really driving the mitigation efforts that we as community are engaging in right now."
Currently, Cleveland Water Alliance is working with a group of water stakeholders and partners to bring a pilot program to the Sandusky Bay. This will serve as the next step of the Smart Lake Erie vision, but is certainly not the first!
Already, Cleveland Water Alliance, LimnoTech, Great Lakes Commission, Great Lakes Observing System, and many others have made efforts to innovate the Lake and gather data through leading citizen science projects, deploying sensors on Lake Erie buoys, tracking progress towards Ohio's 40% reduction goal, and collaborating to create a HABs early warning system.
These four organizations shared updates on their work with regional water stakeholders and professionals at the Smart Lake Erie Strategy Session, showcasing the work that's already in motion.
Cleveland Water Alliance is kicking off our #InnovateTheLake blog series to bring you more information on what is happening now and what will continue to happen as Cleveland Water Alliance and its partners pursue their vision of a Smart Lake.
by Rita Flanagan